The drone drop kits, usually it has 2 types, included the payload drop relerase hook, goods delivery drop box, the role and the realization of the function are different.
Drone payload drop reease mechanism includes installation kit and carbon plateand , a drive shaft, a steering gear, and a loading hook, taking advantage of the fact that the stroke of the steering gear can be controlled by a program, combined with the mechanical structure, one steering gear is used to achieve the purpose of synchronously or step-by-step drop release multiple payload.
In addition to compatible with DJI M600 drone,it also can be used as a universal drone payload drop release system, it can be used on any other multi-rotor drone, triggered by PWM signal, integrated with the drone's remote controller, easy to use.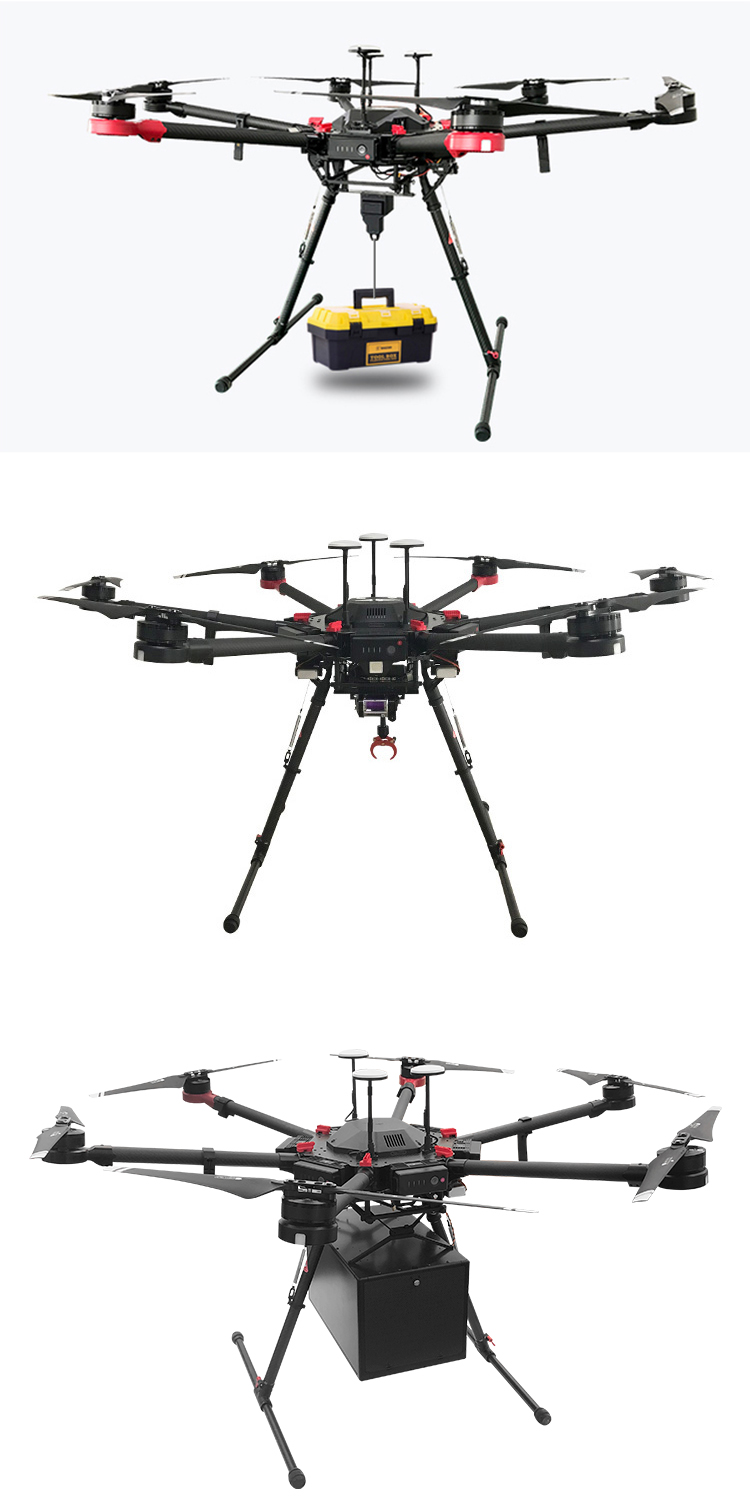 Traditional drones are small and cannot carry large-scale lifebuoys. The large heavy load drone dropper that comes with this drone can drop 8 concentrated life-saving capsules at a time. The capsules automatically expand when they encounter water and become a lifebuoy.
Drone drop release hook can mount rescue items for real-time search and rescue. The most common application are the use of drones to mount lifebuoys to rescue drowning people at the seaside, lakeside, and riverside, which is efficient and safe.
The drop release hook, there are two types, one is simple hooks, they all are max payload capacity 5-8Kg,of course, the capacity can be adjusted to higher that depend on the drone's payload capacity.the better ones is the drop release hook built in servo and winch,30M cable automatic winding, this make drop more easier and safe,especially to delivery some fragile and valuable goods, with the help of this 30M automatic retractable cable, the drone can directly send it to the ground.
Drone emergency goods delivery drop box, when a geological disaster occurs in a certain area, such as floods, mudslides, earthquakes, etc., and the disaster is affected, traffic is blocked, and emergency supplies cannot be transported, food, water, medicine, etc. can be delivered by drones mounted in drop boxes. The drone pilot can view the flight situation in real time through the camera,when reaching the location, the drop box is remotely controlled to open and drop the goods through the remote controller. Today, at the same time, the big logistics companies, such as Amaozn, Jd, Alibaba, SF express, DHL, etc., are all studying the use of drones for logistics and cargo transportation.
The following drone drop release mechanism for DJI M600 pro drone, check below , also it can be used to any other multi-rotor drone ,