Corona discharge detection is a key part of the power inspection. The corona discharge detection equipment currently mainly includes infrared thermal imagers and ultraviolet cameras. The accuracy of infrared thermal imaging technology is not good. Due to daylight interference, background noise during the detection process Large, affect the detection accuracy, and when it detects heating, the electrical equipment has been seriously damaged. Through continuous technological updates, with the gimbal as the core and artificial intelligence algorithms, a solar-blind UV drone gimbal camera based on the light splitting method has been developed. Based on DJI SDK development, it is fully compatible with DJI Matrice 200 series and Matrice 300 RTK drones.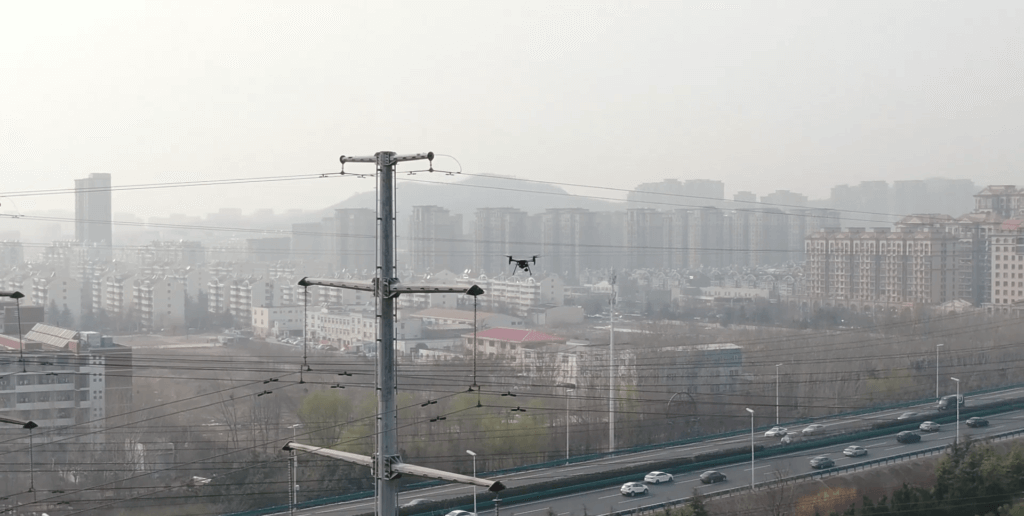 The UV camera can accurately detect the position and strength of the corona discharge, accurately reproduce the irradiance field radiation source of the order of 10-12-10-18W/cm2, and the recognition accuracy of the number of discharge photons exceeds 95%. In the initial discharge stage, the degree of discharge can be accurately evaluated, the suspected fault point can be locked, and the basis for accurate maintenance can be provided.
Advantage of Ultraviolet rays UV drone gimbal camera :
High precision
The camera has solar-blind ultraviolet and visible light image fusion technology. It is used with drones to detect early insulation damage of overhead transmission lines and electrical components, accurately evaluate the degree of discharge, lock suspected fault points, and combine with the laser ranging module to make the photon count value It is measurable. Provide an accurate maintenance basis.
High consistency
Metrological consistency is the basis for the quantitative analysis of UV module or instrument field application, which can support the study of decision-making issues in UV-related applications, and is used to detect early insulation damage of overhead transmission lines and electrical components.
Lightweight
The solar-blind UV drone gimbal camera has a small size and an ultra-light design of the only 485g, which can mount multiple types of drone equipment.
The ultraviolet UV drone cameras greatly meet the inspection requirements of overhead lines in the power grid, and can accurately locate hidden danger points in transmission lines.
For the Ultraviolet rays UV drone camera for powerline Corona discharge detection, we can offer the products developed on DJI payload SDK, compatibility with DJI Matrice 200 and Matrice 300 RTK drone, just like you install a DJI Zemuse camera, operated and control via DJI pilot, for more details, pls check the DJI drone UV camera for details.