Description
Tethered systems for DJI Matrice 600 Pro drone, for police, military, fire department, tethered drone for law enforcement.max flight height 100M, ensure max endurance flight time 24 hour. for outdoor emergency lighting, long-term aerial surveillance.
Based on DJI Matrice 600 pro drone platform, with the ground power station, durable tethered cable, and the power unit on the drone, it is a whole set of tethered system, ensure the drone long-term flight.
The DJI M600 Pro tethered system features:
The tethered system max flight height 100M,
Max flight time 24 Hours, recommend flight time 8 hours.
Easy to use and deploy.
The tethered cable automatically retracts.
Support external 48V or 24V power supply on the drone power board.
support customized task payload power interface.
Max payload weight up to 10Kg.
The M600 Pro tethered drone can mount with a zoom camera, thermal imaging camera, high power lighting, loudspeaker, and more.
Tethered drone Application
Mount With high power and brightness lighting group can provide aerial lighting for rescue operation area, for emergency outdoor lighting.
The tethered system increases the UAV's battery life to max of 24 hours and achieves long-term aerial monitoring.
Mount with trunking communication relay to realize emergency communication.
Mount with the loudspeaker and Led display screens to guide and direct people on the spot.
Tethered system specs.
onboard Power Units

The power board on the drone

1. The power supply interface is compatible with DJI Matrice 600 pro and other Multi-rotor drone ;

2. Material: Aviation aluminum-magnesium alloy;

3. Size:≤195*150*65mm

4. Weight:≤1.85kg;

5. output power:2.4kW;

6. input voltage:DC 400±5V;

7. output voltage:DC 50±1V;

8. Working temperature:≤60℃;

9. Max height:100M;

10. Max endurance flight time:24 Hours

11.Protection function: In the tethered power supply mode, the drone can fly and land normally when the power supply is interrupted during the flight of the drone;

12. High and low-temperature working environment: low temperature: -20℃ normal work; high temperature: +60℃ normal work.

The tethered rope/cable
Size
1. Aviation composite cable diameter ≤0.75mm²;

2. Aviation composite film insulation layer:≥1.7±0.1mm;

3. Support customized 1-4 core single-mode/multi-mode fiber transmission;

4. Total aviation high-strength fiber outer sheath:≥3.8mm;

Specs
1. Withstand voltage: ≥3500V (AC) without breakdown (60S);

2. Insulation resistance:≧500MΩ.KM;

3. DC Resistance:≦2Ω/100m@20℃;

4. Maximum tensile force:≥1000N/m;

5. unit weight:≤22g/M;

6.Working temperature:-45℃+85℃;

Ground Power station
1. Size:≤550*430*420mm;

2. Weight:≤25Kg(100米);

3. input voltage:220VAC;

4. Max current:≥30A

5. output voltage: DC 400±5V;;Output current:0-50A;

6.Output Power : 4.5KW

7. Power supply mode: two-phase mains or Gasoline generator ;

8.Online monitoring function: online monitoring function: support for remote online monitoring function;

l Support input power-off operation data recording function;

l Support APP online monitoring and display function;

l Monitoring and statistics of operating voltage, current, starting and ending time, duration, etc.;

With statistical analysis function, you can know the running status of the module at any time;

Support secondary account management function;

Support system platform cluster control function.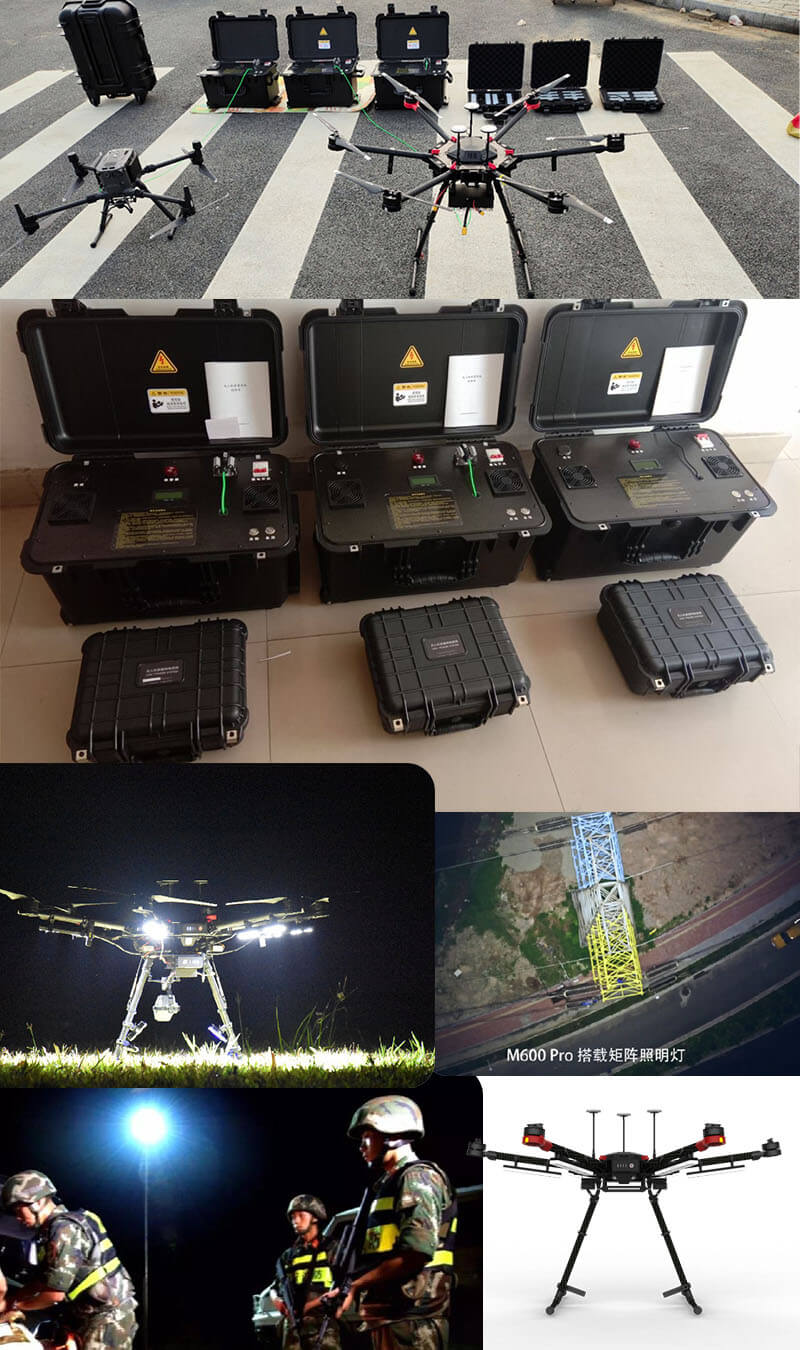 TOP