The latest upgrade – Mini3-VN hyperspectral camera, based on DJI Payload SDK, compatible with DJI Matrice 300, adopts holographic transmission grating spectroscopic line scanning system and built-in micro stabilization system and obtains the spectral distribution of each pixel while acquiring the image of the research object, quantitatively Analyze the biophysical and chemical processes and parameters of the earth's surface for research on vegetation type classification, vegetation growth monitoring, etc., target recognition, camouflage and anti-camouflage military fields, ground object and water telemetry, modern precision agriculture and other ecological environment monitoring fields. No contact, no damage, large scale, fast and accurate features.
Feature:
Based on DJI SDK, work with DJI M300 drone.
Easy to operate, no need for a professional drone operator, and can be operated by one person.
Bult in FPV camera, real-time monitoring the flight and working condition, no need mount other DJI camera.
Holographic transmission grating optical path design.
Data preview and correction functions: irradiance correction, reflectivity correction, area correction support batch processing.
Hover shooting and drone pushing scanning two working modes, no need high-precision inertial guidance system, real-time image stitching.
Flexible settings for exposure, gain, speed, and dynamic display of real-time hyperspectral images and hyperspectral curves.
Real-time common vegetation index calculation functions: normalized vegetation index (NDVI), ratio vegetation index (RVI), enhanced vegetation index (EVI), atmospheric impedance vegetation index (ARVI), improved red edge ratio vegetation index (mSR 705), Vogelmann Red Edge Index (VOG), Photochemical Vegetation Index (PRI), Structure Insensitive Pigment Index (SIPI), Normalized Nitrogen Index (NDNI), Carotenoid Reflectance Index 1 (CRI1), Carotenoid Reflectance Index 2 ( CRI2), anthocyanin reflectance index 1 (ARI1), anthocyanin reflectance index 2 (ARI2), water band index (WBI), normalized water index (NDWI), water stress index (MSI), normalized infrared Index (NDII), Normalized Lignin Index (NDLI), Cellulose Absorption Index (CAI), Vegetation Attenuation Index (PSRI), Soil Brightness Adjusted Vegetation Index (SAVI) .
Support custom real-time analysis model input function, get the results in real-time, and display and save during data collection.
The data format is perfectly compatible with third-party data analysis software such as Evince and Envi.
Acquisition and processing software: SpecVIEW
Acquisition function: exposure, gain, speed can be flexibly set, and real-time hyperspectral images and hyperspectral curves can be dynamically displayed; with the auxiliary camera, what you see is what you get; with automatic exposure, automatic speed matching, automatic data saving, and other functions; support any Three-band composite real-time display, image return; support one-key collection of black and white frames and large-area calibration target data collection; data storage formats are widely used, with commonly used data review and correction functions, and optimized fast correction and special correction algorithms.
Preprocessing functions: geometric correction, reflectivity correction, regional correction, radiometric correction, and other functions; cluster analysis, single-band, true and false color, more than 20 kinds of vegetation indices (can be customized) can be obtained with one key without third-party software, Image 3D cropping, target spectral recognition, and other images, all of the above functions can realize unattended batch processing. It can automatically use the GPS information and flight attitude data obtained by GPS and inertial navigation systems to perform automatic geometric correction of hyperspectral images, and can significantly eliminate image distortion caused by the motion of airborne platforms such as drones, and the processed images will not be distorted. There should be an obvious band dislocation phenomenon; it can effectively and automatically splice the corrected band data, and the splicing result does not contain an obvious dislocation phenomenon; it provides the function of radiometric calibration for all bands.
Specs:
| | | | |
| --- | --- | --- | --- |
| Spectral range: | 400-1000 nm | Spectral Resolution: | 5nm |
| Sampling spectral resolution: | 2.5nm | NUC: | 7th generation i5, 8G memory, 256G SSD |
| Number of spectral channels: | 224 | Number of spatial channels: | 1024 |
| Detector: | Scientific grade CMOS | Pixel pitch: | 9.97μm |
| imaging speed: | 4s/cube | Data output: | 12 bit |
| Spatial resolution: | 0.12m @300m high | Connection method: | Gige |
| Power: | 45W | FPV Camera resolution: | 5MP |
| Numerical aperture: | F/1.7 | FOV: | 23° |
| Imaging method: | raster push-broom | Weight: | 1Kg |
1. Agriculture application; rapid identification and classification of crops.
When there is more than one crop, rapid classification and identification is very important, because different crops have different types and amounts of fertilizers, and fertilizing only according to the growth map may result in some crops being over-fertilized and others under-fertilized. Compared with the multi-spectral system, the UAV hyperspectral system has more spectral bands and higher spectral resolution, so it can obtain different responses of different crops in different wavelength bands, so as to achieve fast and effective identification. Its recognition rate can be as high as 95%.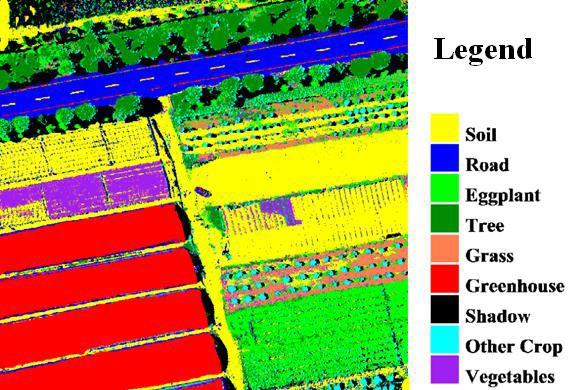 2. Analysis of soil water content and soil fertility.
The DJI M300 drone hyperspectral camera can obtain the distribution map of soil moisture content, soil total fertility content, and organic matter content during its hyperspectral image acquisition process. According to the distribution map of soil moisture content and soil fertility, farmers can quantitatively irrigate and fertilize, so as to solve expenses and avoid environmental pollution.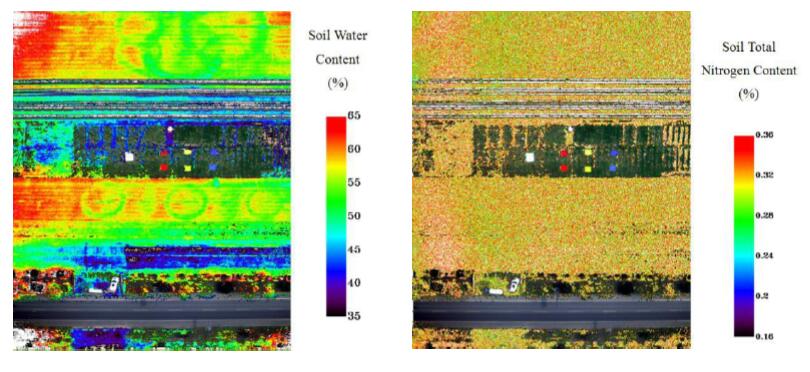 3. Tree species classification, monitoring tree height
Considering the confidentiality of user scientific research data, this study only uses single-scene hyperspectral image data to classify and identify different tree species. The classification and identification results are shown below. In order to use the best index method to extract the characteristic bands and use the see5.0 machine learning rule software to classify the tree species, the user can use the multiple sets of data obtained by the UAV hyperspectral camera to splice, and then classify the tree species. The steps and algorithms are the same.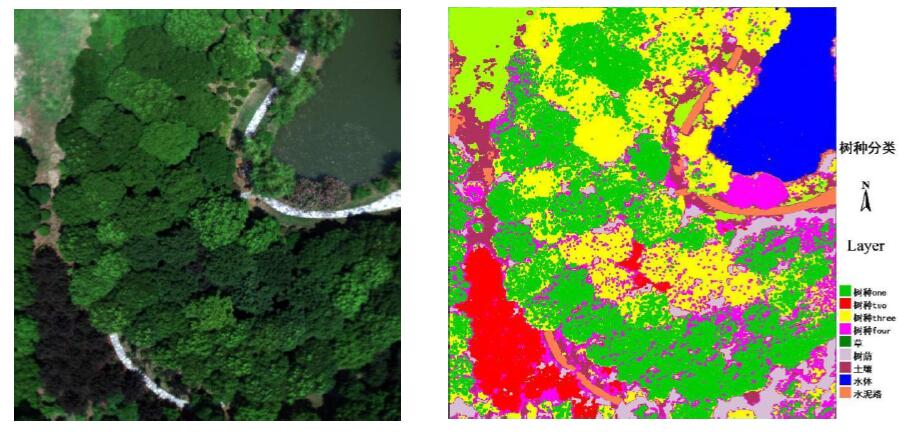 The hyperspectral data of forests at different heights were photographed, and ENVI was used to perform statistical algorithm learning to evaluate changes in tree height during the monitoring period.