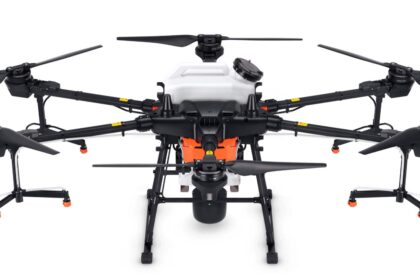 The DJI Release its new agriculture spraying drone, DJI Agras T20, it is a powerful and smart 20L agriculture sprayer drone, let us introduce the price of DJI Agras T20 and its specification, features.
With its powerful performance and outstanding spraying capabilities, the DJI Agras T20 is capable of autonomous operations over a variety of terrains. Giving users upgraded stability and flight safety via Autonomous High-Precision Operation and Omnidirectional Digital Radar.
The Features of DJI Agras T20 agriculture spraying drone;
20L spray tank, big volume, means you can load more liquid, More pesticides, the spray width can be 7M.
RTK, Autonomous High-Precision Operation, With a built-in RTK centimeter-level positioning system and RTK dongles, centimeter-level waypoint recording is enabled, strengthening operations greatly and ensuring precision spraying.
IP67 level protection, waterproof, dustproof, drone operation more assured.
The omnidirectional Digital Radar, The DJI Agras T20 is equipped with an omnidirectional digital radar, which is able to detect obstacles from all horizontal directions. It can also automatically circumvent obstacles while flying over various terrains, ensuring a high level of operational safety. night flight is available.
Real-Time Visual Monitoring System, The DJI Agras T20 agriculture sprayer drone also comes with a real-time FPV camera and two searchlights, providing users with comprehensive live views even at night.
Incredibly Durable, Improved Portability, With a robust modular design, the T20 folds and unfolds in seconds, making it more portable than other agricultural drones. The spray tank and battery are both swappable, reducing downtime and increasing workflow significantly.
Spreading System 2.0, the Spreading System 2.0 elevates the efficiency of the T20 significantly by utilizing a payload of 16 L [7] and a dispense rate of up to 15 kg/min. For direct seeding with grains 0.5-5 cm in size, the Spreading System 2.0 performs 70 times faster than manual operations. [1] This improved form of planting is designed for multiple application scenarios, such as grassland reseeding, granular fertilizer spreading, and the spreading of feed for fish and shrimp. Installation of the system can be completed in under three minutes, proving that it is always ready for the task ahead.
DJI Agras T20 Spreading System,
20L Spray Tank
Check the following Video of DJI T20 introduction ,
For the price of DJI Agras T20, we can offer very very competitive prices,for a full set of DJI Agras T20 ,included drone, 4 battery and one 4 channel smart charger, pls contact us for the best price : [email protected]
The following is the Specs of DJI Agras T20
Agras T20
FLIGHT PARAMETERS
Total Weight (Excluding battery)
21.1 kg
Standard Takeoff Weight
42.6 kg
Max Takeoff Weight
47.5 kg (at sea level)
Max Thrust-Weight Ratio
1.70 (with a takeoff weight of 47.5 kg)
Hovering Accuracy (With a strong GNSS signal)
D-RTK enabled: Horizontal: ±10 cm, Vertical: ±10 cm D-RTK disabled: Horizontal: ±0.6 m, Vertical: ±0.3 m (Radar module enabled: ±0.1 m)
RTK/ GNSS Operating Frequency
RTK: GPS L1/L2, GLONASS F1/F2, BeiDou B1/B2, Galileo E1/E5 [1] GNSS: GPS L1, GLONASS F1, Galileo E1 [1]
Max Power Consumption
8300 W
Hovering Power Consumption
6200 W (with a takeoff weight of 47.5 kg)
Hovering Time[2]
15 min (takeoff weight of 27.5 kg with a 18000 mAh battery) 10 min (takeoff weight of 42.6 kg with a 18000 mAh battery)
Max Flying Speed
10 m/s (with a strong GNSS signal)
Max Service Ceiling Above Sea Level
2000 m
Recommended Operating Temperature
0° to 40°C
AIRFRAME
Max Diagonal Wheelbase
1883 mm
Dimensions
2509×2213×732 mm (Arms and propellers unfolded) 1795×1510×732 mm (Arms unfolded and propellers folded) 1100×570×732 mm (Arms and propellers folded)
PROPULSION SYSTEM – MOTOR
PROPULSION SYSTEM
Weight (Single propeller)
90 g
PROPULSION SYSTEM – PROPELLERS
PROPULSION SYSTEM – ESC
Max Working Current (Continuous)
40 A
Max Working Voltage
58.8 V(14S LiPo)
FPV CAMERA
FOV
Horizontal: 98°, Vertical: 78°
FPV SPOTLIGHT
Max Brightness
12 lux at 5 m of direct light
SPRAYING SYSTEM
Spray Tank Volume
Rated: 15.1 L, Full: 20 L
Operating Payload
Rated:15.1 kg, Full:20 kg
SPRAYING SYSTEM – NOZZLE
Nozzle Model
SX11001VS(standard) SX110015VS(optional) XR11002VS(optional)
Max Spray Rate
SX11001VS: 3.6 L/min SX110015VS: 4.8L/min XR11002VS: 6 L/min
Droplet Size
SX11001VS: 130-250 μm SX110015VS: 170-265 μm XR11002VS: 190-300 μm (related to the actual working environment, spraying flow, etc.)
Spray Width
4-7 m (8 nozzles, at a height of 1.5 – 3 m above crops)
SPRAYING SYSTEM – FLOW METER
Measurement Range
0.25-20 L/min
Measurable Liquid
Conductivity > 50 μS/cm (Liquids such as water or pesticides that contain water)
HIGH PRECISION RADAR MODULE
Operating Frequency
CE (Europe)/(United States): 24.00 GHz-24.25 GHz MIC (Japan)/KCC (Korea): 24.05 GHz-24.25 GHz
EIRP
MIC/KCC/CE /FCC: <20 dBm
Altitude Detection & Terrain Follow[3]
Altitude detection range: 1-30 m Stabilization working range:1.5-15 m Maximum slope of hill mode: 35°
Obstacle Avoidance System[3]
Altitude detection range: 1.5-30 m FOV: Horizontal: 360°, Vertical: ±15° Condition: Relative altitude higher than 1.5 m, operation speed lower than 7 m/s Safe distance: 2.5m (distance between the propeller tip and the obstacle after the aircraft stops) Obstacle-avoiding direction: Omnidirectional obstacle sensing operates horizontally and covers 360°
T20 Intelligent Flight Battery
Weight
6.4 kg (approximately)
REMOTE CONTROLLER
OcuSync 2.0 Operating Frequency[4]
2.4000-2.4835 GHz 5.725-5.850 GHz
OcuSync 2.0 Effictive Transmission Distance(Unobstructed, free of interference)
SRRC/MIC/KCC/CE: 3 km NCC/FCC: 5km (Operation height: 2.5 m)
OcuSync 2.0 Transmission Power (EIRP)
2.4 GHz SRRC/CE/MIC/KCC: 18.5 dBm, FCC: 25.5 dBm; 5.8 GHz SRRC/FCC: 25.5 dBm
WIFI Protocol
Wi-Fi Direct, Wireless Display, 802.11a/g/n/ac, and Wi-Fi with 2×2 MIMO is supported
Wi-Fi Operation Frequency Range[4]
2.4000-2.4835 GHz 5.150-5.250 GHz 5.725-5.850 GHz
WIFI Transmission Power (EIRP)
2.4 GHz SRRC/CE: 18.5 dBm; FCC/MIC/KCC: 20.5 dBm; 5.2 GHz SRRC/FCC/CE/MIC: 14 dBm; KCC:10 dBm; 5.8 GHz SRRC/FCC: 18 dBm; CE/KCC: 12 dBm
Bluetooth Protocol
Bluetooth 4.2
Bluetooth Operating Frequency
2.4000-2.4835 GHz
Bluetooth Transmission Power (EIRP)
SRRC/MIC/FCC/CE/KCC: 6.5 dBm
Display Device
5.5-inch screen 1920×1090 pixels Brightness: 1000 cd/m² Android System
Random Access Memory, RAM
4GB LPDDR4
Storage Capacity
ROM 32GB + microSD, supports microSD cards with a capacity of up to 128 GB and R/W speed up to UHS-I Speed Grade 3
Supported Aircraft
Agras T20
Operation Temperature Range
-10° to 40°C
Storage Temperature Range
< 1 month: -30° to 60°C 1-3 months: -30° to 45°C 3-6 months: -30° to 35°C > 6 months: -30° to 25°C (Built-in battery power 40% to 60%)
Charging Temperature
5° to 40°C