The DJI Agras T16 is the most powerful agricultural spraying drone, Smart and efficient, there are many people want to know the price of the DJI T16, here will offer a full introduction of the specs and reviews.
The DJI Agras T16 has an improved overall structure with modular design and supports the highest payload and widest spray width. With powerful hardware, an AI engine, and 3D-operation planning, the T16 brings operation efficiency to a whole new level.
16L Spray Tank
Core Module IP67 Rating
RTK Centimeter-Level Positioning
DBF Imaging Radar
Wide-Angle FPV Camera
AI Engine
The DJI Agras Price we offer is $16900 (US dollar ) High version.
Included the following;
1 X DJI Agras Drone
1 X Drone remote controller
4 X intelligent Battery
1 X 4-channel smart charger
This is a very competitive price, we offered package included 4 battery, we do not think anyone else can offer such a lower price.
For Contact us pls check https://www.uavfordrone.com/contact-us/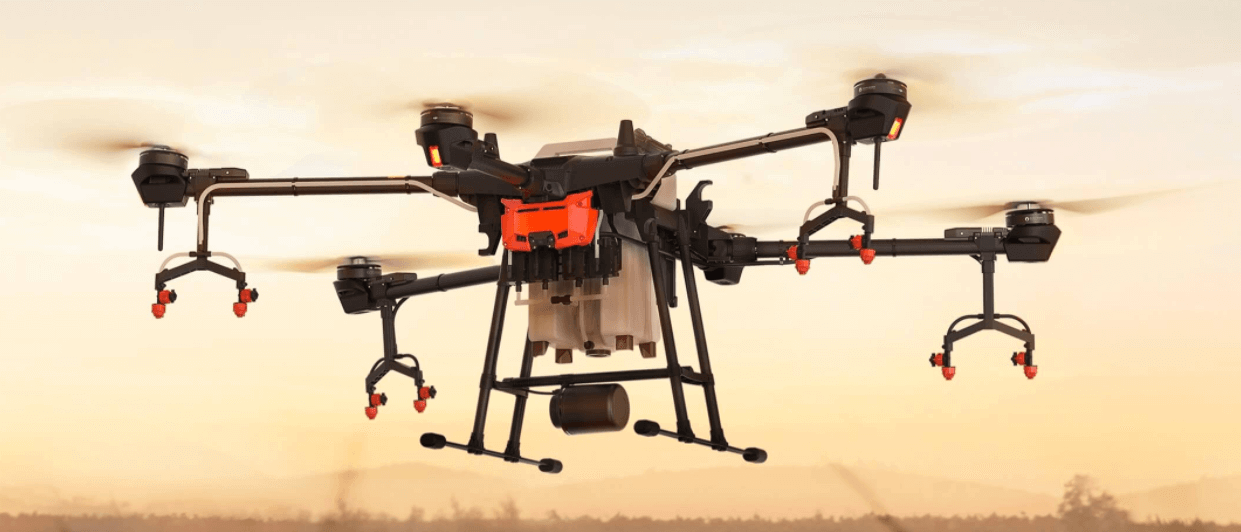 T16 spray liquid tank can carry up to 16 L, and the spray width has increased to 6.5 m. The spraying system has 4 delivery pumps and 8 sprinklers with a maximum spray rate of 4.8 L/min. The T16 can spray 24.7 acres (10 hectares) per hour.
The all-new modular design of the DJI T16 simplifies assembly and accelerates daily maintenance. An IP67 rating provides reliable protection for key components of the drone. A light, yet durable airframe is made of carbon fiber composites and can be quickly folded to 25% of its original size, making it easy for transportation.
T16 has dual IMUs and barometers and adopts a propulsion signal redundancy design to ensure flight safety. The GNSS+RTK dual-redundancy system supports centimeter-level positioning. It also supports dual-antenna technology that provides strong resistance against magnetic interference
The T16's upgraded radar system can sense the operating environment during the day or at night, without being affected by light or dust. It has greatly improved flight safety with forward and backward obstacle avoidance and a horizontal FOV (field of view) of 100° ,this innovative radar system adopts Digital Beam Forming (DBF) technology, which supports 3D point cloud imaging that effectively senses the environment and helps to circumvent obstacles.
The T16 supports OcuSync 2.0 HD transmission technology which extends its control range to up to 3 km. [2] It also has a wide-angle FPV camera and spotlights that can monitor aircraft operation during the day and at night to ensure flight safety.
AIRFRAME
Max Diagonal Wheelbase
1883 mm
Dimensions
2509×2213×732 mm (Arms and propellers unfolded)
1795×1510×732 mm (Arms unfolded and propellers folded)
1100×570×732 mm (Arms and propellers folded)
SPRAYING SYSTEM- SPRAY TANK
| | |
| --- | --- |
| Volume | Rated: 15 L, Full: 16 L |
| Operating Payload | Rated: 15 kg, Full: 16 kg |
SPRAYING SYSTEM – NOZZLE
| | |
| --- | --- |
| Model | XR11001VS (Standard), XR110015VS (Optional, purchase separately) |
| Quantity | 8 |
| Max Spray Rate | XR11001VS: 3.6 L/min, XR110015VS: 4.8 L/min |
| Spray Width | 4-6.5 m (8 nozzles, at a height of 1.5-3 m above crops) |
| Droplet Size | XR11001VS:130 – 250 μm XR110015VS:170 – 265 μm (Subject to operating environment and spray rate) |
SPRAYING SYSTEM – FLOW METER
Measurement Range
0.45-5 L/min
Error
< ±2%
Measurable Liquid
CConductivity > 50 mS/cm
(Liquids such as water or pesticides that contains water)
FLIGHT PARAMETERS
Operating Frequency
2.4000 GHz-2.4835 GHz
5.725 GHz-5.850 GHz *
EIRP
2.4 GHz
SRRC/ CE / MIC/ KCC: < 20 dBm
FCC / NCC: < 26 dBm
5.8 GHz
SRRC/ NCC/ FCC: < 26 dBm
Total Weight (Excluding battery)
18.5 kg
Standard Takeoff Weight
39.5 kg
Max Takeoff Weight
40.5 kg (At sea level)
Max Thrust-Weight Ratio
2.05 (Takeoff weight of 39.5 kg)
Hovering Accuracy (With strong GNSS signal)
D-RTK enabled: Horizontal: ±10 cm, Vertical: ±10 cm
D-RTK disabled: Horizontal: ±0.6 m, Vertical: ±0.3 m (Radar module enabled: ±0.1 m)
RTK/ GNSS Operating Frequency
RTK: GPS L1/L2, GLONASS F1/F2, BeiDou B1/B2, Galileo E1/E5
GNSS: GPS L1, GLONASS F1, Galileo E1
Battery
DJI-approved battery pack (AB2-17500mAh-51.8V)
Max Power Consumption
5600 W
Hovering Power Consumption
4600 W (Takeoff weight of 39.5 kg)
Hovering Time**
18 min (Takeoff weight of 24.5 kg with a 17500 mAh battery)
10 min (Takeoff weight of 39.5 kg with a 17500 mAh battery)
Max Tilt Angle
15°
Max Operating Speed
7 m/s
Max Flying Speed
10 m/s (With strong GNSS signal)
Max Wind Resistance
8 m/s
Max Service Ceiling Above Sea Level
2000 m
Recommended Operating Temperature
0° to 40°C (32° to 104°F)
* To comply with local laws and regulations, this frequency is not available in some countries or regions.
** Hovering time acquired at sea level with wind speeds lower than 3 m/s.
DJI Agras T16 Spraying drone
For the Price of DJI Agras T16 ;
We can offer different version, such as Southeast Asian version,North American version ,South American version,European version,Middle East version,Russian version , usualy , we will delvery the DJI T16 to you depned on your country and region, we make sure that you can use it in your country, no any limited on hardware and software , we have sold many , get many happy customers.
for the price, we can not put on the open website, but I am 100% sure, it is cheaper than you can buy , it is much cheaper than you can buy , you will have good profit when you need resell .
For more details, just freely to contact us .